Anti-tack agent which is also called Batch-off release agent is an important product that is used in cooling section of rubber and tire manufacturing companies. AlpinePolymer was established in Vancouver as a trading and manufacturing company. Our main areas of expertise are now the manufacture of tyre materials such as Batch-off release agent (Antitack). The product quality of our batchoff release agent and its reasonable price has made us very well-known as a reliable supplier and producer in tire and rubber industry. We produce batch-off release agent (anti tacking agent) in form of powder anti-tack and liquid anti-tack agent.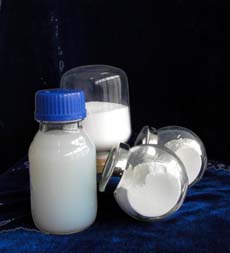 What is Batch-off release agent (Anti-tack)?
Batch Off Cooling Line is one the most important units in a production section of each rubber and tire factory. The cooling procedure involves using batch-off release agent in 5 steps which is explained below:
Dip: After the rubber or tyre sheet which is prepared in an mixer device comes out it's really hot and needs too cool down. If you stack the rubber sheets on each other they will stick to each other because they are very hot and sticky. So the rubber sheets enter Batch Off Cooling Line which is a mixture of water and powder or liquid batch-off release agent.
Cool: rubber and tyre sheet will dip in the mixture for few minutes too cool down. After rubber sheets are cool enough so they aren't sticky anymore, the cooling batch-off devices take them out of mixture of water and anti tack to dry.
Dry: After Dipping and cooling steps since rubber sheets are still wet, they should be kept somewhere to dry enough for the next step which is stacking.
Stack: Rubber and tyre sheets which are dry and prepared now are stacked on each other.
Cut: Cooling procedure is over and the sheets are ready to cut and use in any industry which has been made for now.
Powder batch-off release agent
 Powder anti-tack dissolves in water easily and will create a coating with no dusting and no sediment formation. It supports wide temperature range and works perfectly in high temperature conditions.
Here is a list of other specifications of our product:
Wets rubber perfectly and has excellent release with wide temperature range 
High efficiency ( the amount of powder batch-off equipment used per square meter)
Creates coating with no dusting
Produces a little amount of foam
It is Environmentally friendly; does not have glycol ethers, alkyl phenol ethoxylated (APEO) surfactants
Zinc free, silicone oil free, heavy metal free
Liquid batch-off release agent
Liquid batch-off release agent or antitack is more popular right now in tire industry due to it's higher efficiency and less difficulty when they are used in a cooling line. It is completely Environmentally friendly like our other products at Alpine Polymer.
Here is a list of other specifications of our product:

Fast drying
Dilutes easily
No Sedimentation